About us
S.M.H. Gmelin + Co.
For 57 years
Mobile grinding and mixing technology has been available under the
brand GMELIN since 1964.
Owner-managed company
Short decision-making paths with a trust-based corporate culture
Customer satisfaction
The trust of our customers is important to us.
About S.M.H Gmelin + Co. GmbH
Mobile grinding and mixing technology has been under the brand GMELIN since 1964.
Under the motto "The mill drives to the grain" , the first German mobile grinding and mixing plant was presented to the professional world almost 60 years ago.
It was exactly what farmers, contractors and machine rings imagined a mobile mixing plant to be.
high performance – from which farmers benefit
Maximum mobility – so that feed silos far away from grain can also be filled
perfect forage quality – all the individual components used are known to the farmer
Although all assemblies have been revised, changed, improved and adapted to the current requirements for performance and fuel consumption over and over again, nothing fundamental has changed in this proven principle in the past 60 years.
Chronicle
1964 – the first German mobile grinding and mixing plant is presented
1971 – the first systems with a suction-pressure system are put into operation.
Finally it was possible to blow out silos.
1978 – the new production hall in Reutlingen, Föhrstr. is put into operation
1981 – GMELIN has set a pioneering milestone to this day.
The first grain crushers were built on mobile grinding and mixing systems.
A feeding revolution began.
1988 – Foundation of the company S.M.H. Gmelin, separated from the company Gebr. Gmelin.
The S.M.H. Gmelin has made it its business to specialize only in grinding and mixing systems.
& nbsp;
1990 – The next two highlights:
With our type FD 2290, the S.M.H. Gmelin launched the first fully soundproof machine on the market in spring 1990.
But that was not the only unique selling point of GMELIN mobile grinding and mixing plants.
The FD 2290 made it possible for customers to use a 3 ton mixer on mobile systems for the first time.
Due to the structural change in agriculture, new highlights were constantly being developed.
Due to the increased use of liquid components in feeding, we developed a metering system with metering counter and the structure of feed oil containers has been standardized.
The stepless adjustment of the squeezing gap has been unmatched in its simple form since our first squeezer in the grinding / squeezing process.
1991 – Relocation to Reutlingen, Sondelfingen district, to our production plant, which is still today.
1994 – In June 1994 the first mobile mixing plants of our type FD 2295 with a water-cooled DEUTZ diesel engine were presented.
1999 – The extension with a modern and contemporary paint booth, wash hall and additional storage area was completed and put into operation.
1999 – The FD 3000 was presented under the motto "Even more mixing plant, even more GMELIN".
2006 – The new generation of mobile concentrate plants has been developed.
In June 2006 we presented the FD 3006 to our customers and interested parties.
The characteristics of these systems were the mixers with a capacity of up to 6.5 tons.
The hammer mill has been redesigned.
Throughput rates of up to 26 tons per hour were achieved.
2008 – The first FN machine was delivered in December 2008.
A separate motor was not used in the drive concept.
Our FN machines are driven directly by the truck.
The machines are still convincing today with their maneuverability and compactness.
2008 – Under the motto "The big ones", the FD 3008 MAX with a mixer capacity of up to 14 tons was presented to the professional world at the Eurotier.
2009 – In October 20009 our FN series was expanded to include the FN 3009 MAX.
2010 – At the Eurotier 2010 we presented our new, unique mixer shape with a capacity of up to 8 tons under the motto "In good shape".
2012 – In March 2012 we brought together what belonged together.
With the FD 3011, the oval mixer of the FN 3010 was combined with the add-on motor.
2016 – At Eurotier 2016 we presented our FD 3017A.
A trailer machine, as a semi-trailer, with a 14 ton mixer and a V6 diesel engine with 300kW at 1600min-1 and a torque of 1850Nm.
2019 – The first FD 3016 has been delivered.
Today's models in the FD and FN series are characterized by their diversity,
Economy and reliability.
More than ever, the S.M.H. Gmelin as a partner for contractors.
We do not manufacture a product that competes with our mobile systems, which are designed for contractors.
The team at S.M.H. Gmelin will be happy to present our current machines to you personally, answer your open questions and prepare individual offers.
Always the right solution.
Economically as well as technically.
High performance - economical in consumption
The liquid-cooled Deutz diesel engine BF6M1013ECP is equipped with the most modern diesel injection and emission-optimized in accordance with regulation 97/68 EG, COM II.
Maximum mobility
Switchable 2-way suction, short distances to the grain store, for larger batches and different storage locations, all suction lines are laid. Time-consuming retooling is no longer necessary by simply switching the three-way valve.
Perfect feed quality
Problem-free processing of wet maize. Clearly defined squeezing gap results in a uniform structure of the squeezed material.
And don't forget: simultaneous squeezing and grinding is possible!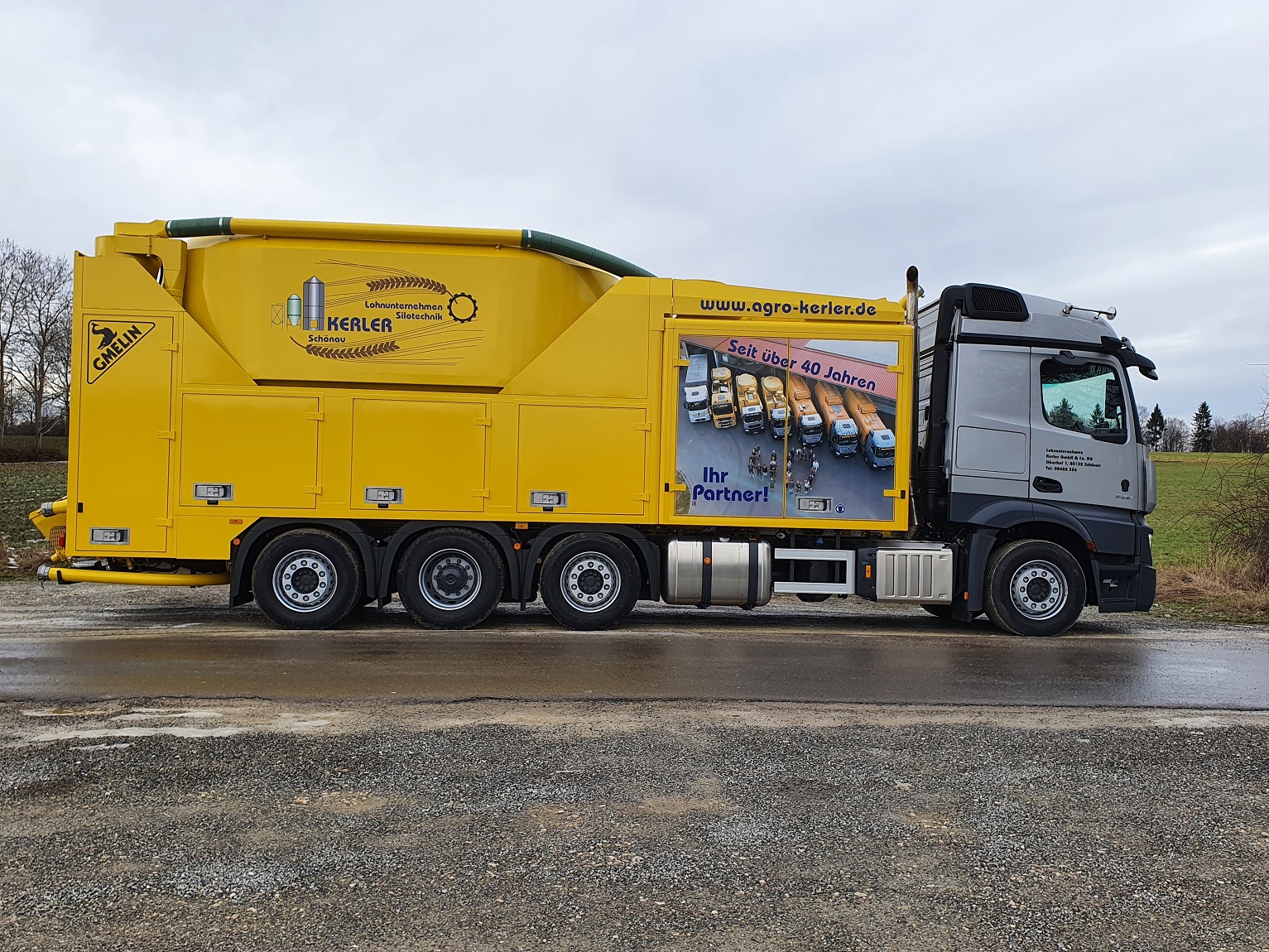 S.M.H. Gmelin + Co.GmbH | Lembergstraße 19 | 72766 Reutlingen